---
Come Celebrate the 4th of July Historic Style in St. Augustine FL!
Posted On Wednesday, June 15, 2022
---
Starting as early as July 1st to kick off the holiday weekend we have our Oak Fest! This annual, 4-day, free concert series is open to all ages! Located in Colonial Oak Music Park in the middle of St. George Street; relax under the oak tree shade with local music favorites and grab a bite to eat from one of the food and drink vendors on-site.

For more information and the music line up, click here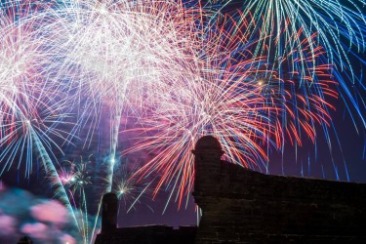 The main event for the 4th of July Celebration here in our beautiful St. Augustine begins at 6pm at the Castillo de San Marcos National Monument.
Here you can enjoy and get into the holiday spirit with the All-Star Orchestra 2-hour show playing all your patriotic favorites. The fireworks display begins at 9:30pm!

In order to make sure you are having the best time possible, make an informed plan for parking! The downtown parking garage at the Visitors Information Center offers all-day parking for $15 per vehicle. Additionally, all city-owned lots and street parking are free on the 4th, but you'll want to get there early to secure a good spot. There is also a free Park and Ride shuttle offered by the city. You can board at any of these convenient locations:
· Anastasia Baptist Church (1650 A1A South)
· St. Augustine Amphitheatre (1340-C A1A South)
· R.B. Hunt Elementary School (125 Magnolia Dr)
· St. Augustine Alligator Farm Zoological Park (999 Anastasia Blvd) - additional parking only, the shuttle will pick up across the street at R.B Hunt
Be prepared for the road closures starting at 8pm on the 4th and lasting until 11pm:
· Picolata Road between U.S. 1 and San Marco Avenue
· San Carlos between U.S. 1 and San Marco Avenue
· King Street will have two westbound lanes and one eastbound lane west of MLK Boulevard (8 p.m. -11:30 p.m.)
· King Street will have one westbound lane and one eastbound lane east of MLK up to Aveneda Menendez.
· There will be no east-bound traffic on W. Castillo from US-1 to North Cordova from 8 p.m. to 11:30 p.m.
· N. Cordova will be closed from Orange St. to the Historic Downtown Parking Facility entrance (8 p.m. – 11 p.m.)
Have fun, be safe, and enjoy your 4th of July in the Nation's Oldest City!
Comment on this post!